Welcome to the Official Burlington Ghost Walks
Simply Spooky!-(est.since 2001)
Investigations into Burlington and Halton Region's Most Haunted Places and it's Ghosts, Burlington Ontario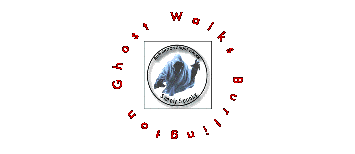 ---
Official Burlington Ghost Tours and Events
Want to know more about Burlington's Haunted Locations?
Latest Ghost Activity at Emma's Back Porch? Updated Ghost Photos, Mystery Ghost Lights at Burlington Bay, the Haunted War Statue, new ghost activity at the torn down Riviera Hotel, new haunted locations....contact Patrick >>ghostly1@bell.net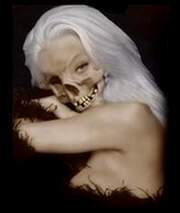 Ghost Walks run from Jume and run to November. Private Ghosts Tours are also available including Special Events, Free Ghost Tours on Select Days. All New Ghost Tour and Locations starts in September and October with Burlington Tourism - contact ghostly1@bell.net
:Click on link below to reserve for official ghost tours.
Tickets Must be PRE-PAID. We no longer take Cash. All Payments for regular tours are through PAYPAL.
---
Official Burlington Ghost Walks "Your Ghost Guides To The Dark Sides"
Thank You! 14 Years of Ghost Walks and Haunted History<> 2001 to 2015. Going into our 14th Year. Sponsored by Tourism Burlington, City of Burlington, Emmas Back Porch, Water Street Cooker, Coffee Culture, Test Kitchen.
Join Canadian Paranormal Researchers - Patrick Cross and Michelle Desrochers - for Burlington's Ghost Walk and History Tours of famous Emma's Back Porch and Downtown Burlington, Ontario.
Patrick is a Paranormal Representaive for Emma's Back Porch and Water Street Cooker for the last 14 years and 20 years as a Paranormal Researcher, Tour Guide and Co-ordinating ghost tour groups from 10 to 174 people for group events, seminars and tv media events.
Planning a day or weekend trip to Burlington? Come to Emma's Back Porch, enjoy the lake Patio at Emmas and the Water Street Cooker.
---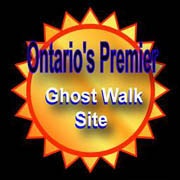 Rated "Best Family and Childrens Ghost Walk Tours in Ontario for the past 13 years"-Toronto Star, Toronto Sun, Toronto Tourism, Ontario Tourism, Niagara Falls Tourism.
This is a Family Site for adults and children.We promote fun and spooky ghost walks with historic tours in Burlington. We are promoted through Toronto Tourism and Burlington Tourism Events Centre 414 Locust Street, downtown Burlington-stop in for a flyer and more information.
OFFICIAL DOWNTOWN BURLINGTON GHOST WALKS
EXPLORE 200 Years In 2 Hours!
slogan copyright 2001-2015
Check out our Spirited Historic Tour with History, Folkore and Legendary Ghosts of Burlington. Informative, well researched accounts of settlers, soldiers and history makers from the 1800's including Chief Joseph Brant, Laura Secord, Emma Byrens, Captain William Kerr, Elizabeth Brant, James Gage and Robert Bateman to the present day Burlington. Conducted by Patrick Cross and Ghost Guides-Ghost Host's and Experienced Paranormal Researchers.

Ghost Walks Information
Burlington Ghost Walks was established in 2001, We conduct ghost walks from June to November - Weekends Saturdays 9:00pm to 11:00pm. Every second week. The tour is 2 hours long meets at Emma's Back Porch Restuarant and continue to visit a variety of legendary haunted locations in Burlington's downtown core. We talk about Burlington's history and mystery, dark secrets and stop at many locations where ghosts still linger on the streets and in the shadows of downtown Burlington and Village Square.There is a coffee and washroom break at the Coffee Culture on Brant Street on the tour, we then go back to Emma's Back Porch at the end of the tour.We are in the downtown Burlington core, everything is well lit and safety is always our first concern for our guests. Enjoy!
We meet outside by the white veranda at Emma's Back Porch Restaurant in downtown Burlington, 2084 Old Lakeshore Road, one block east of Brant across Lepage Real Estate. Free Parking across from Emmas. We can accomodate up to groups of 50 people. *We are the Official Ghost Walk Tour that sells tickets and conducts Ghost Walks with Emma's Back Porch, *Do Not call Emma's for Tickets or Reservations* We are the only ones that sell tickets and do the Ghost Walks.Thank-you.
Stressed?, Feeling Haunted?, See Dead People? Come to Emma's Back Porch for Great Dining Experience and get relief- Stay all night and enjoy the patio every weekend!
HAUNTED EMMA's BACK PORCH, Burlington-2015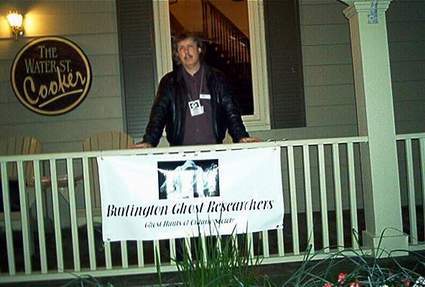 ---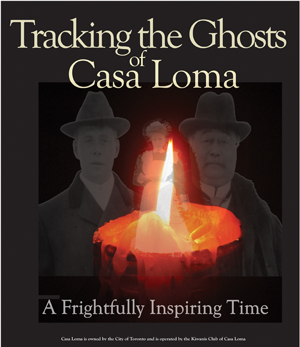 Original "Ghost Tracking Poster-Promo" from Casa Loma Ghost Tracking Tours 2010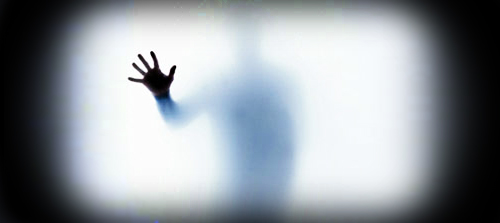 - A critical web site and on-line media presentation of Ontario's Most Mystifying History, Erased History Events, Cover-Ups and Mysterious Stories from all over Ontario. Topics cover: Strange Disappearances, Missing Time, Spontaneous Combustion, Erased Historical Events, Banned Photos, Mystic Masonic Symbols in Ontario, Radio Frequencies attracts ghosts, Ancient Vortexes and Portals right in Ontario and many more! (*In association with Morning Star Media, OLN Network, Timeline Productions-Los Angeles.Ca, Toronto Now! Look Magazine-Toronto, The Unexplained Files TV-New York, Southern Paranormal-Louisiana, HellRaiser Productions,L.A.,HellFinger Animation-Belgium, Europe USA, Burlington Tourism.
:Ghost Photos Gallery: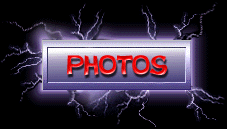 ---
Click on the some links below to go to other Burlingtom Haunted Locations:
Emma's Back Porch-Burlington >Haunted Statue >Magnetic Hill-King Road Ghost >Paletta Mansion >Jem Horner >Ghost Photos! on the Ghost Walk >Inn At The Falls Ghost Walks >
Once Upon a Time...It was Nice..."THEN" Burlington ghosts were just a legend, NOW! we've made it HAUNTED HISTORY!. Legends and Stories of Burlington's Haunted Places continue with On-going research into the unexplained, strange, paranormal, the para-science and the just plain weird!


Contact: Patrick is available for radio/tv/media/seminars/guest speaker and paranormal consultant-Email contact: ghostly1@bell.net. Contact Patrick on Facebook and see latest updates.

Website powered by Angels and Demons. "In search of things that should rather Stay Dead".

---

Copyright 2015 Canadian Haunted Media and for Discovery Ghosts Media 2015

TV Shows Patrick featured on/Consultant/Producer for: Creepy Canada, Ghost Trackers, Demonic Entities-Biography, Ghostly Emcounters, In Search Of..-USA, Ghosts That Kill-USA, Extreme Hauntings-USA, Science of Ghosts-Space TV, Celebrity Ghosts Series-USA, Southern Paranormal-USA, CTV Travel Canada, Haunted Destinations-USA, America's Haunted Lighthouses, City TV-Toronto, CITY Breakfast Television, ET Canada, Showcase TV, Space TV, Vision TV, CBC, CHCH TV, OLN Network.

List of Ghost Tours and Televison Productions: Patrick as Host / Consultant / Producer:

Discovery Ghosts! TV/Radio/News Media-2015
Emma's Back Porch Restaurant and Water Street Cooker, Burlington
Casa Loma, Toronto Ghost Tracking Tours and Seminars 2009-2012
Keg Mansion Dinner and Ghost Tours-Toronto
Toronto Star- Special Feature-Paletta Mansion,Burlington Ghosts October 2007
Terry Boyle Haunted Ontario Books and Tours-Ghost Researcher/Consultant 2004-2009
Ireland House, Burlington-Halloween Special Events
Burlington Public Library Ghost Seminars
Village Square-Burlington Art Center Ghost Events
Royal Botanical Ghost Tours,Burlington
Port Dalhousie Ghost Tours, St.Catherines
Inn at The Falls, Bracebridge-Muskoka Ghost Tours
Orillia Big Sky Ghost Tours
Toronto Tourism and Special Events
Toronto Sun News Media-Special Events
CTV TV Travel Entertainment-Tourism, Toronto
Now Magazine Special Entertainment, Toronto
CTV Barrie Special Events
CHCH TV Hamilton Special Events
Global TV News
Cogeco TV Local News Events-Ghost Tours Burlington
Charity Ghost Walk Events for Burlington Breast Cancer Society and Toronto
"Night Gallery"-Ghost Photo Seminars-Art Gallery of Ontario, The Power Plant, Royal Botanical Gardens and other Ontario Locations.
Paranormal Seminars - Toronto, Los Angeles, Las Vegas, Reno Nevada, Lake Tahoe-Nevada, Louisianna,USA

Visit the Facebook page

Patrick Cross is on Facebook-Discovery Ghosts!


Visit Patrick Cross - Paranormal Researcher on Twitter www.twitter.com/patcrossghosts Haunted News


---

Copyright Burlington Ghost Walks 2015, Discovery Ghosts! 2015. All rights reserved. This is the Official Ghost Tours for Burlington, Ontario.