---

Haunted World War 1 Statue
Burlington, Ontario, Canada

"The Ghost of Alfred "Albert" Johnson"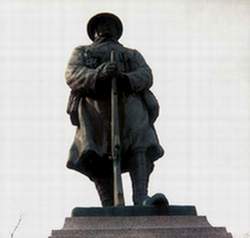 One of the most famous haunted locations on the Burlington Ghost Walk is the story and history of the World War 1 Statue of a Soldier, located on the north side of City Hall on Brant Street, also known as a "Cenotaph" memorial in downtown Burlington. This story became very popular in the last 6 years since it is has fascinated and scared most people adding that eerie feeling of something haunting downtown Burlington. The original story goes back to the early 1950's when local residents reported hearing and seeing things that could very well be the first ghost story to emerge in Burlington, Ontario.
The statue is solid bronze, there are no mechanical devices to it whatsoever, it doesn't move, at least not by human hands and this is where it begins. Originally erected in 1922, the green soldier statue is dedicated to the soldiers who fought in World War 1 and then a list of names of men were added onto the plaque for men who fought in World War 2 from Burlington, Hamilton and the surrounding areas.(noye: The plaque has currently disappeared went missing? in June 2017) We believe and so do the hundred of others who have visited this statue that the ghost is of Alfred Johnson, a soldier part of the Hamilton Light Infantry Brigade and later turned hero, is the ghost that is attached to the statue. Alfred died in a fierce battle in Dieppe France August 1940. Ue was from Burlington and worked at the Aylmer Canning Factory, he was enlisted along with other Burlington young men in 1940. The original story of his death and battle was reported in the Burlington Gazette, August 22, 1940.
---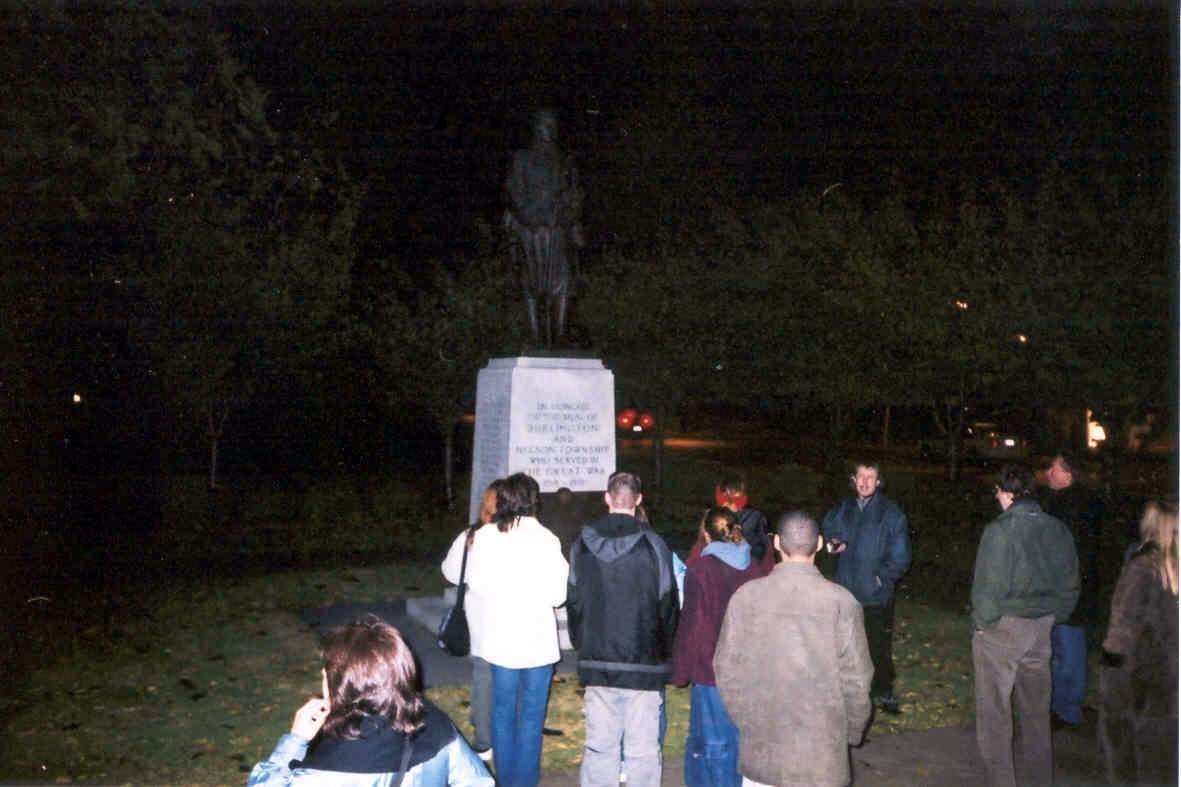 (The first photo below shows a mass of Ghost Fumes appear at 12:04, November 30, 2002 just after midnight swirling around the statue, his hands did shift positions on the rifle, witnesses also said they saw his eyes open! If you look at the rifle you see 2 images of the rifle and movement clearly showing it had moved! This photo also shows the whites of the Soldiers eyes as if opened for this brief minute as it was photographed.) Photo shot by Patrick Cross with witnesses seeing the ghost fumes appear at 12:04, 12:05 and 12:07 am, December 1st, 2002. Research and story by Patrick Cross-Copyright 2002-2012. Other photo shows ghost mist forming to the right of the statue with witness waiting for the statue to move. *These are the only photos that have captured ghost ectoplasm and mist forming around the statue before and as the hands move on the rifle. Voices and sounds of marching with rifles has also been heard by witmesses.Many other stories have appeared recently with ghost photos taken of the statue.Hear the full story only on the Burlington Ghost Walk conducted by Patrick Cross, tours start at Emmas's Back Porch, downtown Burlington.